Manny's carpet cleaning & repairs
Don't Replace It – Repair It!
Affordable Carpet Repair, Stretching & Cleaning Services.
We are your carpet stretching and repair experts in Tampa Florida and surrounding areas. If you have wrinkles in your carpet or if your pet tore a hole in your carpet, we can help! We have over 10 years of experience and expertise to bring directly to you. We offer free estimates to fix your carpet. If it is carpet related, we know how to fix it!
Carpet Stretching Before: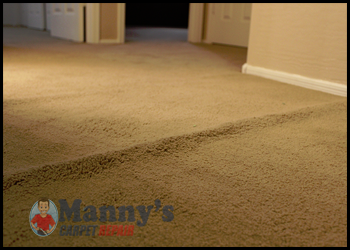 Carpet Stretching After:
We can stretch and repair rooms with or without furniture. In many cases, we prefer to stretch the entire room and not just the visible wrinkles. This way we can guarantee our work and give you a life-time warranty for the work we perform on the carpet, knowing that you won't have any future problems. We have seen many cases where we have come in after other companies have stretched carpets for a client to fix what should have been done, to begin with. There are many companies out there who just are not experienced enough to stretch carpet properly.
GET A Free QUOTE!

813-358-3876
Manny's Carpet Stretching Process:
1. Pre-inspection and walk-though (we will look at the layout of the room/rooms of the home and determine the best direction(s) to stretch).
2. We will pickup light furniture that may be in the way of us stretching the carpet.
3. We will move any heavy furniture that may be in the way of the room we are stretching to one side of the room. ( Furniture sliders are often used )
4. Our technicians will release the carpet from the tack strip.
5. The carpet is stretched with a power stretcher from an anchor wall toward the opposite direction. (Note: The use of a power stretcher is extremely important. Never allow a company to stretch your carpets without the use of the power stretcher.)
6. A knee kicker is used as an assist tool to the power stretcher and the carpet is attached back onto the tack strip by knee kicking the carpet and pressing the carpet back onto the tack strip with a hammer.
7. Excess carpet that has been stretched is now on the tack strip and we will trim away the excess.
8. The carpet is trimmed with a carpet trimming tool.
9. The carpet is tucked back into the space between the tack and baseboard.
10. Any excess carpet is trimmed as needed with a carpet knife.
11. Cleanup and vacuum. (Large pieces are picked up and we will vacuum up the small pieces)
12. Furniture is moved back into place.
13. Post inspection and walkthrough. (We will walk through the home with our client and be sure everything looks great!)
GET A Free QUOTE!

813-358-3876
Carpet Seam Repair
We are experts in repairing all kinds of carpet issues including carpet seams, burns, you name it.  We repair and stretch all types and styles of carpet including Cut Pile (Saxony, Texture, Velvet/Plush, and Frieze), Level Loop Pile (including Berber), Cut and Loop Pile, Multi-Level Loop Pile, and Carpet Tile. We can do all sorts of color repair as well.
Seam Repair Before: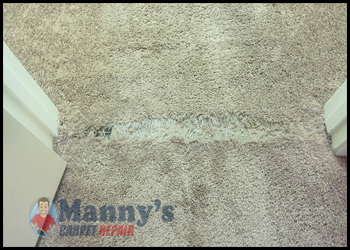 Seam Repair After: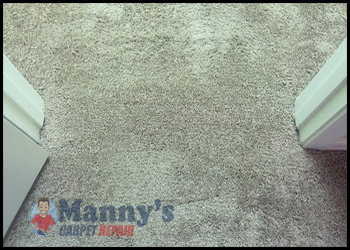 Bleach Stain Removal
Do you have a bleach spot? No problem. We can either dye the spot back to look almost like the original color or patch it.
Bleach Stain Removal Before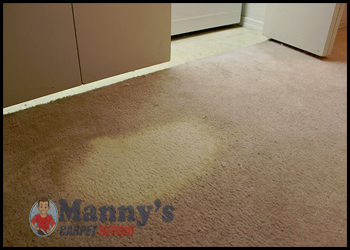 Bleach Stain Removal After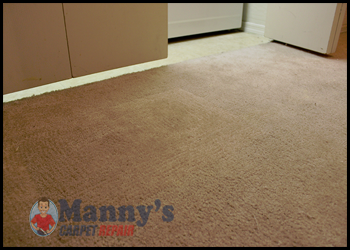 Pet Damage Repairs
Just because Fido all of the sudden decided to dig a hole into your carpet, don't be tempted to think that you need to replace the whole room with a new carpet.  Nothing couldn't be further from the truth. Take a look below to see some of the pet damage that we've come across in our client's homes.
After returning from work one rainy day customer found this damage on the carpet caused by her cat. This is a very common problem that we come across a lot.
No worries… as you can see you can't really notice there is actually a patch there. The customer was very happy after we show her the finished job. Problem solve!
Pet Damage Repair Before: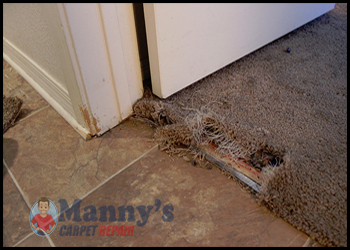 Pet Damage Repair After: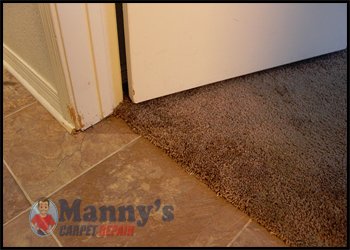 Professional Carpet Cleaning
No need to go and rent a carpet machine after we are done. With just one call you can have your carpets professionally cleaned and repair all at the same time. We are your one-stop carpet repair and professional carpet cleaning experts. Our services include:
• Deep steam cleaning,
• Pet stains and odor removal
• Red stains removal
• Furniture stain removal and more.
We use only the best cleaning products to get your carpets cleaned the right way. Our cleaning products are safe for children, pets, and the whole family.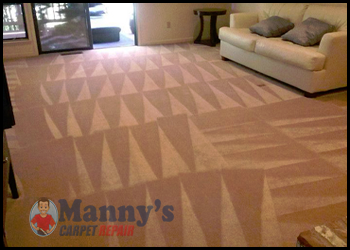 Free Estimates
813-358-3876
Request a free quote –
813-358-3876
We'll give you an instant free, over the phone quote! Getting your carpet repaired instead of replacing will allow you to save hundreds or perhaps thousands of dollars. Don't Replace It, Repair It!
Get your free quote Today!
For over 10 years Manny's Carpet Cleaning & Repairs has been cleaning and repairing damage carpet in Riverview, Lithia, Brandon, Apollo Beach, Tampa and all surrounding areas. We offer affordable prices and a standard 1 year warranty on all repair's. When you call to get your free carpet repair estimate, ask us for details about our carpet repair guarantee. We make sure you're 100% pleased with the workmanship we provided for you. Our commitment and goal is customer satisfaction with a repair that will last for a life time..
GET A Free QUOTE!
813-358-3876
You won't find a more affordable option in the Tampa and the surrounding areas to repair your carpet. We are the locally owned and operated, honest and trustworthy carpet repair company you can trust!
We are only a phone call away
We have over 10 years of experience in the carpet industry. You can expect us to be on time as well as offer EXCEPTIONAL QUALITY and competitive pricing. Our technicians do all of the work from start to finish – no subs
"They stretch the carpet, take care of areas where dogs have dug, peed, cancle wax stains, kool aid stains. The prices are great, they even can get the waves out of the carpet. I have been using them since they have started in business I think. You can not go wrong with them."
Manny came out today to complete cleaning and stretching for 2 bedrooms in my home. I am completely shocked at how great it came out and for a very reasonable price.
"Manny has been a valuable piece of my team that I have been using. I would highly recommend him."
"We were debating on replacing our carpet and not no more!! It looks like we have brand new carpet!!"
to Schedule Your
Carpet Repair Service
We are here Mon-Sat from 9am-6pm. Call or Fill Out Our Online Contact Form for help.